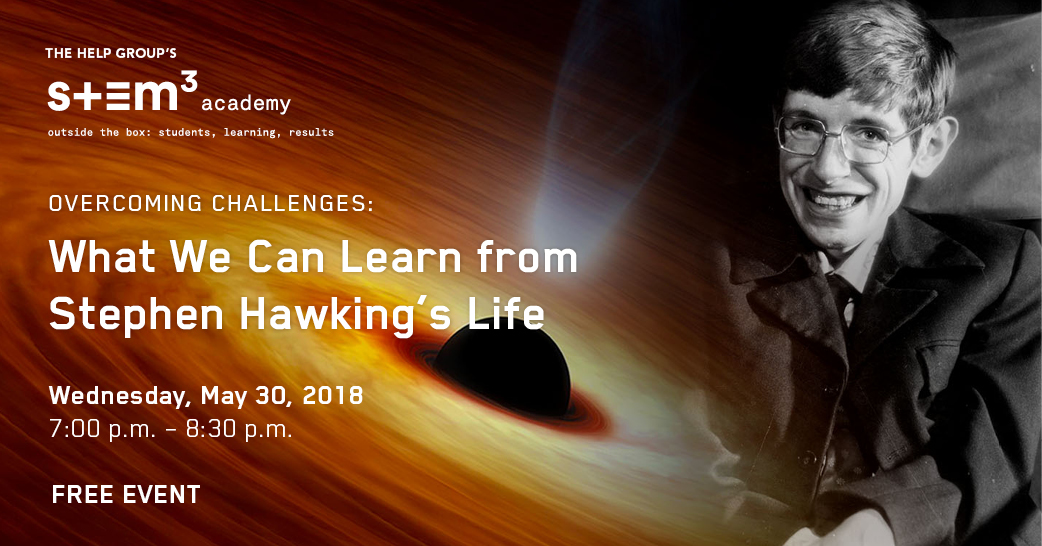 The Help Group's STEM³ Academy event, Overcoming Challenges: What We Can Learn from Stephen Hawking's Life, took place on Wednesday, May 30th at STEM³ Academy's Valley Glen campus and featured experts who focused on how to make the most out of ones life circumstances, strengths and challenges. Approximately 70 professionals, parents and young people were in attendance.
Dr. Jim Fuller, Professor at California Institute of Technology, began the evening highlighting Hawking's tremendous contributions to the field. He also explored how Stephen Hawking overcame adversity by harnessing his many strengths in spite of his incredibly debilitating physical challenges.
Dr. Ellis Crasnow, Director of STEM Education at The Help Group focused his talk on passion, purpose and participation, and gave examples of other extraordinary individuals who experienced a social, learning or physical challenge and yet succeeded beyond expectations. The common threads between each individual included their ability to identify what excites them, create specific, measurable, attainable, relevant and timely goals and take the steps needed to ensure that these goals are met.
Dr. Amy Griffiths, Professor at Chapman University, a licensed psychologist and a nationally certified school psychologist, focused her presentation on the research behind positive psychology, resilience, grit, perseverance, optimism and other 21st century skills, skills needed to ensure success in future employment.
Participants left with a greater understanding of Hawking's work as well as a better understanding of the essential ingredients needed to maximize ones potential, not in spite of challenges, but because of them.
To learn more about STEM³ Academy or to sign up for future events, visit www.stem3academy.org.