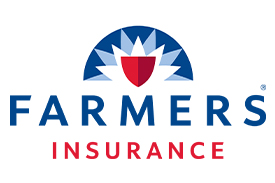 Virtual Reality with Farmers Insurance
See how one of the world's largest insurance companies uses virtual reality as a training tool for their employees. Try out their VR headsets as you play games and learn about the important role this technology plays in their success.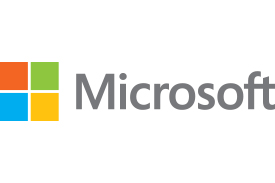 3D Painting and Mixed Reality
Stop by Microsoft's table where they will be showcasing 3D and mixed reality. Use Paint 3D to customize your own 3D character. Then use the Mixed Reality Viewer to take a selfie with your creation!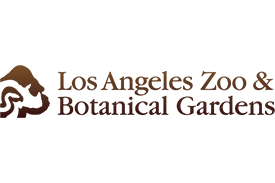 LA Zoo Interactive Exhibit
Check out cool biofacts displays and hands-on activities from the LA Zoo.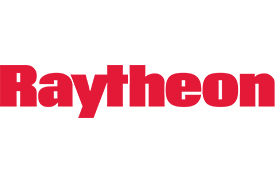 Aerospace Hardware Display
Check out Raytheon's interactive display of a variety of Commercial Off The Shelf (COTS) hardware and material used in the aerospace industry in opto-mechanical design.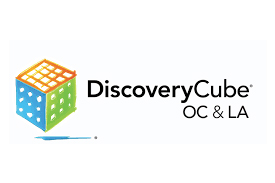 Discovery Cube
Participate in hands-on chemistry experiments involving mystery powders with the science team from Discovery Cube Los Angeles.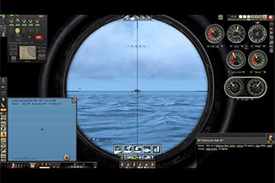 Torpedo: Hit or Miss
How close to the target will your torpedo explode? Check out our hands-on demonstration of the connection between naval operations and math!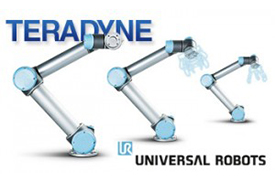 Teradyne Universal Robots
See and learn about collaborative robots (cobots) designed to physically interact with humans in a shared workspace. Mark Levin, author of the recently published "Improving Product Reliability and Software Quality," will also be on hand to talk about reliability engineering.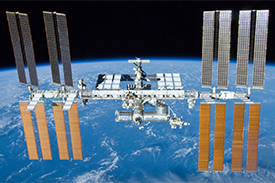 ISS-Above: Mission Control
ISS-Above is mission control of the International Space Station for the classroom. More than 3,000 of these devices are installed worldwide, including one at STEM3 Academy. Learn how often the ISS is passing by and see live views of the earth from space. Plus, take home a free 3D-printed ISS pendant!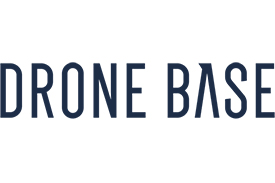 The Ultimate Drone Demonstration
The DroneBase team will be on hand to take you high into the clouds as they demonstrate drone technology. Learn the ins and outs of these amazing flying machines and watch as they maneuver through the sky during flight demos.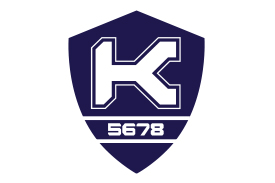 Robotics
STEM³ Academy's competitive robotics team, Knightrise, will show off their amazing robots. Learn how they're made, how they work, and have a turn taking them out for a test drive!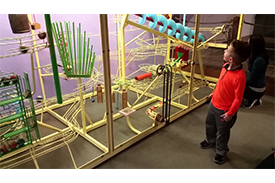 Rube Goldberg Machine
Artist and engineer Brett Doar will lead a hands-on workshop on the process of designing and building Rube Goldberg machines. You'll help build one of these complex contraptions in which a series of devices perform simple tasks that when linked together produce a domino effect creating interactive and kinetic devices.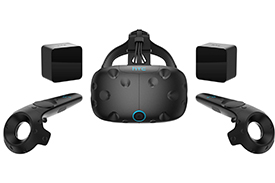 Virtual Reality Experience
Immerse yourself in the virtual world of the HTC VIVE virtual reality system. This unforgettable first-person experience is designed for you to interact with a new and exciting world.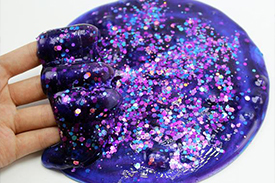 Galactic Slime
Concoct a batch of slime that's out of this world! Release your inner mad scientist as you mix up a batch of oozing slime that could only be from a galaxy far, far away.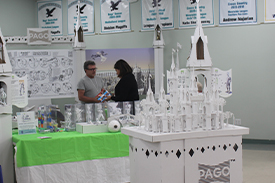 Paper Construction with PAGO
Ordinary paper gets extraordinary when artist, designer, and imaginer Eric Ward gets his hands on it. Check out his unique, three-dimensional PAGO figures and make your own paper creations.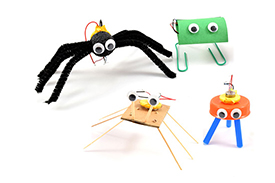 Build An Outerspace Vibrobot
Have a blast making your own vibrobot nano creature, a tiny robot powered by a vibrating motor like those found in cell phones. You'll learn about engineering and robotics during this fun, hands-on activity and take home your new creature!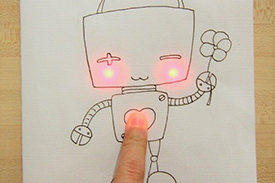 Paper Circuits
Learn the basics of electricity by combining paper, copper tape, LED lights, and a battery to create a low-voltage electronic circuit. You can even lay your circuit out to make a light-up design that you can take home.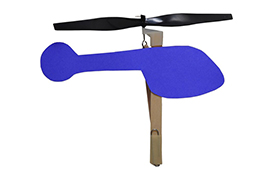 Rubber Band Helicopter
Explore aerodynamics and engineering as you construct a helicopter that can fly up to 20 feet in the air using simple household items and the energy of a rubber band.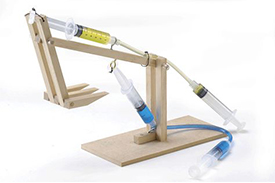 Moon Rock Harvester
Build your own moon rock harvester and compete with others to see how many rocks you can pick up.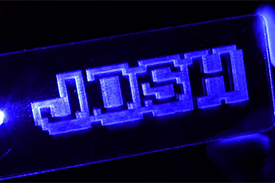 LED Astronaut Name Badge
Every astronaut needs a name badge fit for space. Etch your name into a piece of acrylic, add an LED light, and watch in wonder as your name lights up so your fellow astronauts can identify you in space!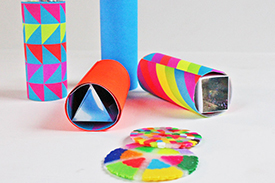 Cosmic Dust Kaleidoscope
Construct your own kaleidoscope to view colorful cosmic dust through the science of light, reflections, and symmetry.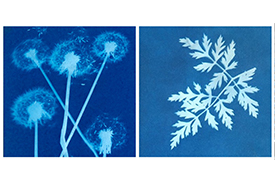 Solar Printing
Solar-powered art comes to life as you make beautiful pictures by placing objects on special paper and exposing it to the sun. The paper undergoes a chemical change when exposed to sunlight that imprints the image onto it. Add water and let it dry to permanently save your new work of art.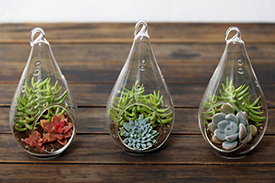 Build a Biome Terrarium
Use your imagination and create a biological community inside a small, glass dome. Add sand, rocks, moss, and other items to create your own mini biome.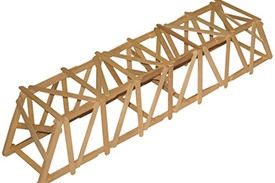 Popsicle Stick Engineering
Put your ingenuity to the test and see what you can build using just popsicle sticks and glue. From bridges and buildings to houses and stick figures, there's no limit on what you can make with a little engineering and creativity.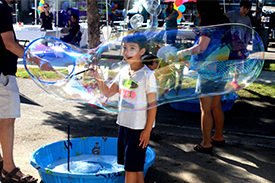 Bubble Mania
You've never experienced bubbles like this! Get your hands on the latest bubble-making tools and transform soapy solution into flowers, butterflies, dinosaurs, and more incredible shapes. A bubblologist will facilitate this interactive activity that is sure to be fun for participants of all ages!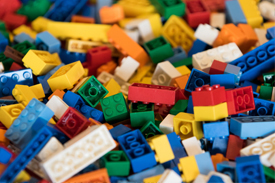 Building Station
Let your imagination run wild and engineer anything you can dream up! Choose building pieces of different shapes, sizes and colors to bring your plan to life.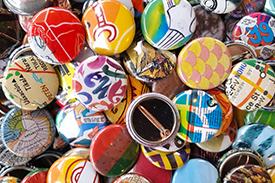 Make Your Own Button
Get artistic as you design your own button and use a button-making machine to seal your creation into a piece you can wear!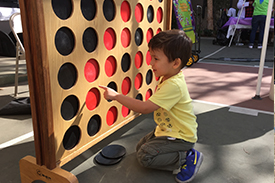 Giant Connect 4
Strategize the best moves to get four of your colored game pieces in a row. The first player to do so wins!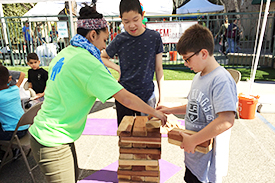 Giant Jenga
Put your engineering skills to the test as you build a tower of wooden blocks by pulling them out from the bottom and moving them to the top. Careful – don't be the one to make it fall!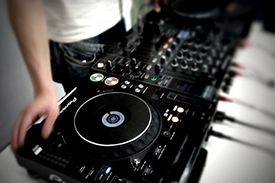 Move to the Music with DJ Adam
Show off your dance moves as DJ Adam of In The House Entertainment returns to rock our Innovation Fair!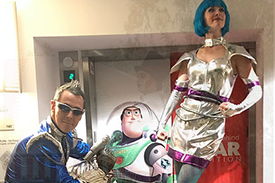 Space-Themed Stilt Walker
While roaming the fair, be sure to look up so you don't miss our entertaining stilt walker decked out in a futuristic space costume.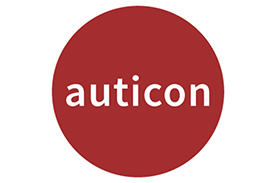 Auticon
Learn about Auticon, a leading IT services company that provides employment opportunities for people with autism.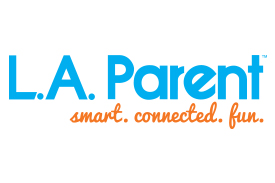 L.A. Parent
Each attendee will walk away with the latest issue of L.A. Parent magazine, the ultimate source for community news and parenting advice in Southern California.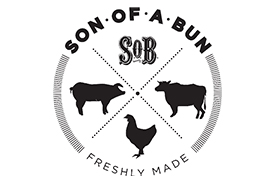 Son of a Bun Food Truck
Savor the taste of a delicious burger, chicken sandwich, or hot dog from Son of a Bun. Add a side of fries or slaw to complete the perfect meal during the fair.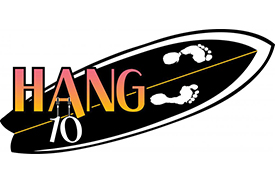 Hang 10 Tacos Food Truck
Enjoy traditional tacos featuring fresh meats and veggies from this LA food truck with a devoted following. Family recipes and quality service make this a must-stop for lunch.
STEM³ Academy
Valley Glen
6455 Coldwater Canyon Ave,
Valley Glen, CA 91606

877.943.5747
[email protected]